Welcome to Cardale! We are a trusted company with over 50 years of experience in the doors industry. As a reputable and reliable firm, we have built our name on a foundation of safety and security. Our team consists of highly trained and experienced professionals dedicated to delivering exceptional service.
At Cardale Garage Doors, we take pride in being an ISO 9001 registered firm, adhering to stringent quality standards to guarantee customer satisfaction. 
Whether you're looking for up-and-over doors or any other type of door in Bristol, our comprehensive range has got you covered. We offer free surveys to assess your specific requirements and provide tailored solutions. Download our free brochure from our website to learn more about our products and services. 
Our dedicated team is just a phone call away for any enquiries or assistance. Reach us at 0800 559 3552. Experience the Cardale difference today with the best up and over doors Bristol has to offer. 
Choosing the Right Size for Bristol Up and Over Doors
Choosing the right size for your up-and-over garage doors ensures a perfect fit and seamless functionality. At Cardale, we understand the importance of precise measurements, and our team is here to assist you every step of the way. 
When selecting the size of up-and-over doors, customers need to consider the dimensions of their garage opening. Our experts can provide guidance on measuring techniques and help you determine the ideal size for your specific requirements. We offer doors in a wide range of standard sizes and can also provide custom doors for non-standard openings. 
Up-and-over doors are highly versatile, making them suitable for various garage sizes and configurations. Whether you have a small residential garage or a larger commercial space, we have the right size to fit your needs. These doors offer excellent vertical clearance, allowing you to maximise the available space in your garage. 
At Cardale, we are committed to delivering exceptional customer service. Our team will work closely with you to understand your needs and guide you in selecting the perfect size for your up-and-over garage doors. With our expertise and extensive range of doors, you can confidently find the ideal solution for your property.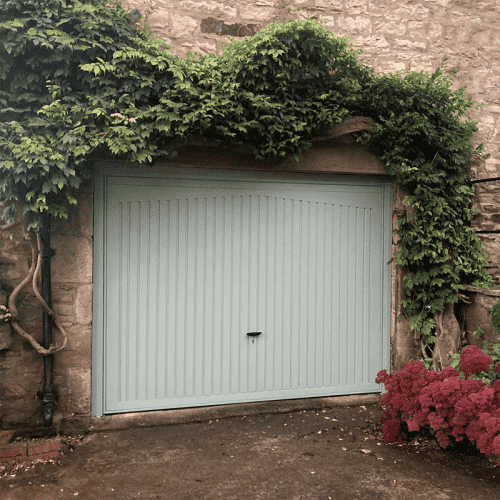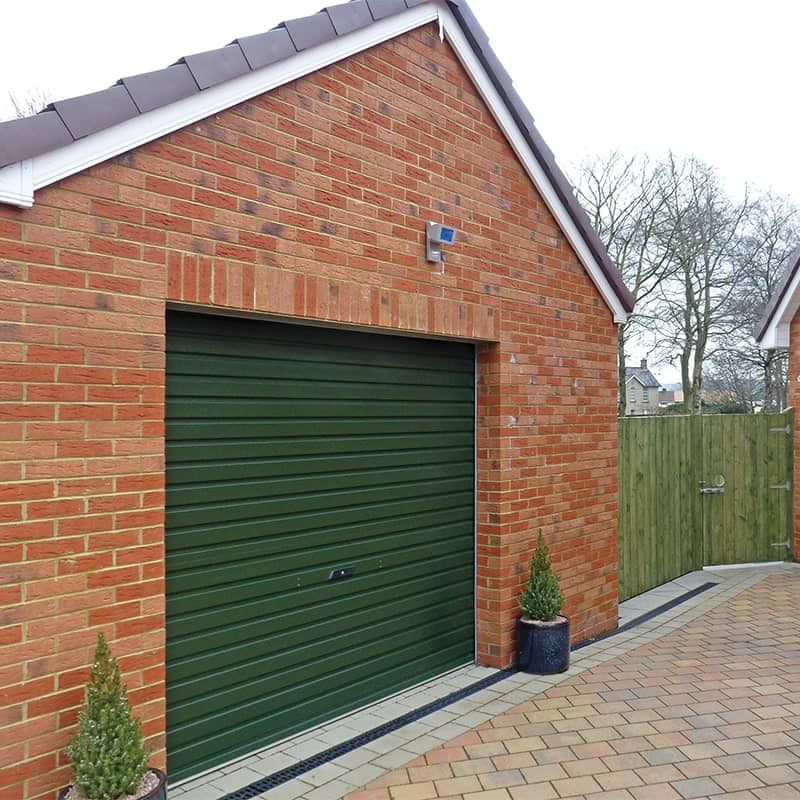 Security Features in Bristol Up and Over Doors 
At Cardale, we prioritise the safety and security of your property. Our up and over doors are designed with a range of security features to provide peace of mind. 
One of the key security features of our up and over doors, Bristol customers, is their robust construction. Crafted from high-quality materials such as steel and GRP, these doors offer excellent resistance against potential intruders. They are built to withstand external forces and provide a strong barrier against unauthorised access. 
Our up and over doors are equipped with reliable locking mechanisms to enhance security further. These mechanisms prevent forced entry, ensuring your garage and its contents remain secure. We understand that security requirements may vary, which is why we offer a range of locking options to suit your specific needs. 
In addition to their structural integrity and advanced locks, our up and over doors can be customised with additional security features. These may include reinforced panels, anti-lift devices, and tamper-resistant fixtures. Our team will work closely with you to assess your security requirements and recommend the most suitable options for your door. 
Installation Process of Bristol Up
and
Over Doors
At Cardale, we take pride in our seamless installation process for up-and-over doors. Our highly trained and experienced team ensures a hassle-free experience from start to finish. 
Once you have selected the perfect up and over door for your property in Bristol, our installation experts will schedule a convenient time for the installation. We understand your time is valuable, so we strive to work efficiently and minimise disruption to your daily routine. 
Our team will arrive punctually on the scheduled installation day with all the necessary equipment and tools. They will begin by carefully removing any existing doors and preparing the opening for the new installation. Our experts pay meticulous attention to detail to ensure a precise fit and alignment of the up and over door. 
Next, they will install the door panels, tracks, and operating mechanism, ensuring smooth and effortless operation. Our team will also make necessary adjustments to ensure optimal functionality and security. They will thoroughly demonstrate how to operate and maintain the door, answering any questions you may have. 
Once the installation is complete, our team will clean up the work area, leaving your property in Bristol neat and tidy. We believe in the importance of delivering quality products and an exceptional installation experience. 
Our dedicated customer service team is always available to assist you if you have any concerns or questions after the installation. We stand behind our workmanship and offer a comprehensive warranty for all our garage doors, Bristol customers. 
Choose Cardale for professional and reliable installation of up and over doors. Experience our expertise and commitment to customer satisfaction first-hand.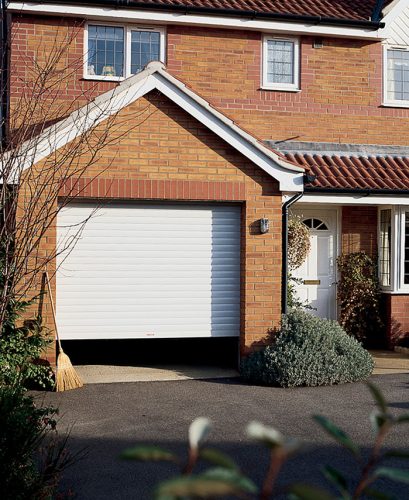 Types of Up and Over

Materials Used in Bristol Up and Over Doors  
At Cardale, we offer a wide range of materials for our up-and-over doors, ensuring you can find the perfect combination of style, durability, and functionality for your garage. 
Here are some of the materials we use: 
Rosewood Steel

GRP (Glass Reinforced Polyester)

White Powder-Coated Steel
Coloured Steel
Golden Oak Steel
Maintenance Tips for Bristol Up and Over Doors
To ensure the longevity and smooth operation of your up and over doors, regular maintenance is essential. 
Here are some maintenance tips to keep your doors in optimal condition: 
Lubrication

 

Cleaning

 

Visual Inspection

 

Weatherstripping

 

Balance and Springs

 
Regularly lubricate the moving parts of the door, such as hinges, rollers, and tracks, with a silicone-based lubricant. This helps reduce friction and ensures smooth operation. 
Clean the door surfaces periodically using a mild detergent and water. Avoid using abrasive cleaners or harsh chemicals that could damage the finish. 
Customers should conduct visual inspections of doors, including tracks and hardware to check for any signs of wear, damage, or misalignment. Address any issues promptly to prevent further damage or operational problems with your doors. 
Check and replace worn or damaged weatherstripping to maintain proper sealing and insulation. This helps prevent drafts, energy loss, and potential water ingress. 
Test the balance of your doors periodically by disconnecting the opener and manually operating them. If your doors do not stay in place or feels heavy to lift, they may require professional adjustment. Additionally, have the springs inspected regularly and replace any worn or damaged springs promptly. 
By following these maintenance tips, you can extend the lifespan of your up and over doors and ensure they continue to operate smoothly and securely. If you have any concerns or require professional assistance, do not hesitate to contact our experienced team at Cardale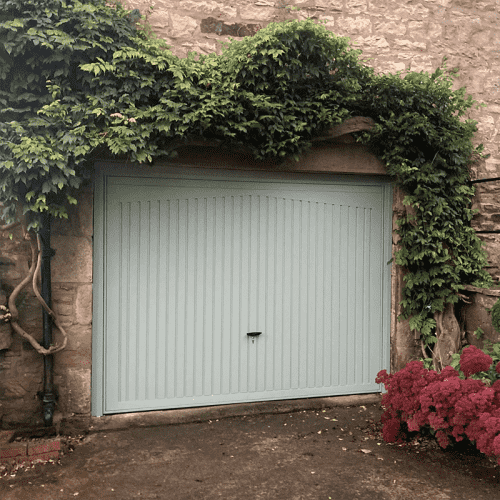 Customisation Options for Bristol Up and Over Doors
When it comes to aesthetics, our up and over doors can be customised with a variety of patterns and designs. Whether you prefer a classic, contemporary, or bespoke look, we have doors to suit your taste. You can choose from different panel styles, window configurations, and decorative inserts to create a door that complements the overall aesthetic of your property. 
In terms of colours, we offer an extensive palette to match your style. From standard colours to custom colour matching, customers can select the perfect shade for their doors that harmonises with their home's exterior. 
We also provide a range of materials for customisation, including steel, GRP, and wood-effect finishes. Each material offers unique benefits regarding durability, maintenance requirements, and aesthetic appeal. 
For added convenience, we offer automatic opening functionality for our up and over doors. With the option of motorised operation, customers can easily open and close their garage doors with the touch of a button, providing ease and convenience for your everyday use. 
Why Choose Us for Up and Over Doors in Bristol?
With over 50 years of experience, Cardale is a trusted choice for high-quality garage doors. Our fully trained staff ensures that we deliver exceptional products and lasting customer care. We take pride in our proven expertise and versatile product range, meeting the diverse needs of our clients. 
Cardale doors are available through selected independent specialist garage door distributors, installers, builder merchants, builders, and home improvement companies. Our doors have been chosen by these industry experts, a testament to the quality we offer. As a British company, we are committed to continuous innovation and improvement, ensuring our doors are at the forefront of market changes. 
When you choose Cardale, you benefit from our one-year manufacturer's warranty on all our doors, electric operators, spares, and accessories. This warranty is backed by approved service agents and our own team of fully equipped service engineers. We stand behind the quality of our doors and remain committed to providing lasting care to our clients.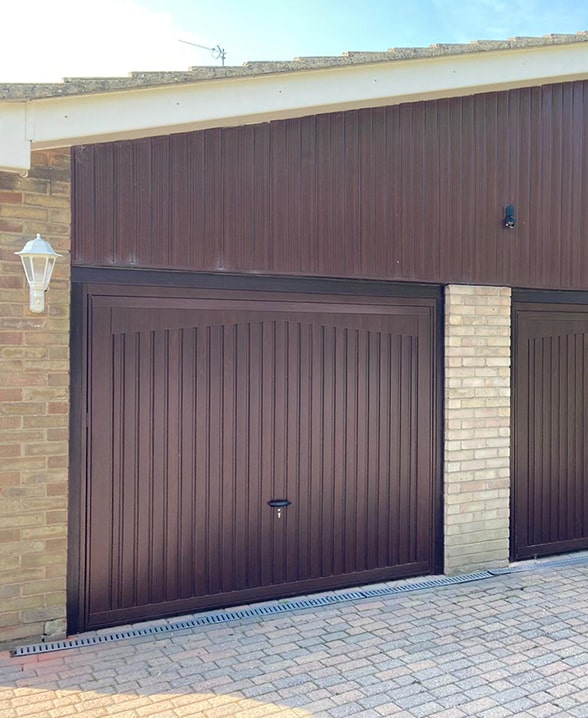 Contact Us Today
Thank you for considering Cardale for your door needs. We specialise in providing top-quality doors in Bristol and beyond, backed by our more than 50 years of industry expertise. Our commitment to reliability, safety, and security has earned us a trusted reputation among our customers. 
We offer multiple contact options to get in touch with our knowledgeable team. You can reach us directly by calling our dedicated phone line at 0800 559 3552. If you prefer written communication, feel free to email us at [email protected]. Alternatively, you can fill out the contact form on our website, and we will respond to your enquiry promptly. 
We understand that every customer has unique requirements, which is why we provide free surveys to assess your specific needs. Our highly trained and experienced team will work closely with you to find the perfect door solution. 
Contact Cardale today and experience our competitive prices, industry-leading expertise, and exceptional customer service. We look forward to assisting you in finding the perfect door for your needs.