The importance of having high-quality doors cannot be overstated enough. Not only will better doors result in it being easier to access your garage, but it will also improve the appearance of your home exterior and bolster security. All of these benefits can be found in our side hinged garage doors, an entrance type that has become increasingly popular over the years. We at Cardale are proud to have a wide range of side hinged garage doors available.
Our team works tirelessly to manufacture side hinged garage doors that are of the highest quality. By using quality materials, as well as taking great care during the manufacturing process, we're able to produce exceptional garage doors. All our garage doors are quality checked and installed by our professional team. What's more, the side hinged garage doors we offer have a sophisticated design that makes them incredibly easy to operate.
If you've been searching for garage doors that are simple to operate, offer excellent security improvements, and are great looking, then our side hinged garage doors are perfect for you. At Cardale, we have put together garage doors that take advantage of some of the finest crafting materials around and have a sophisticated design. Everything from the functionality to the appearance of our side hinged garage doors is outstanding.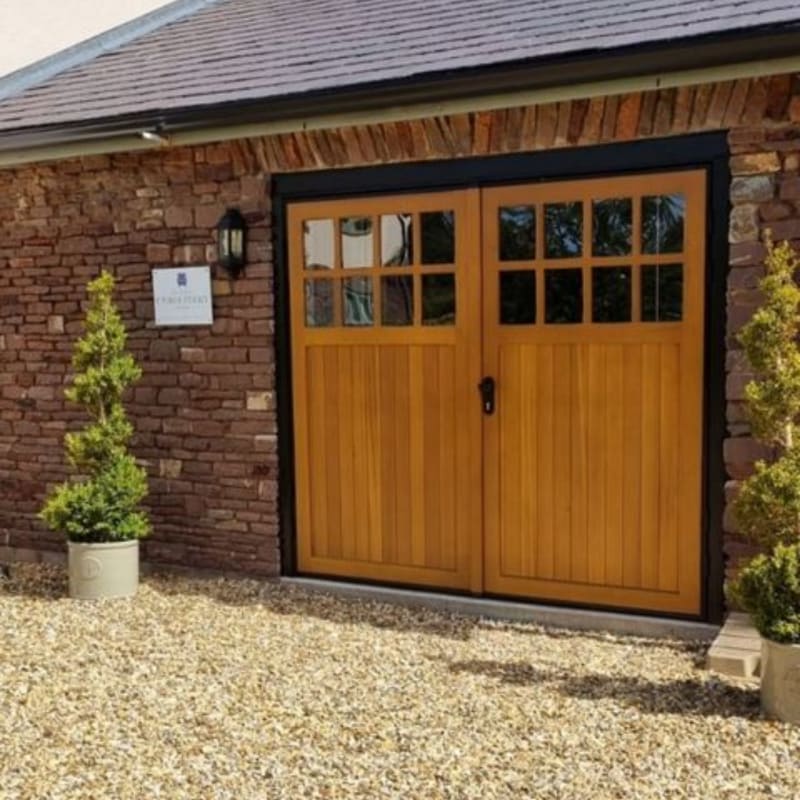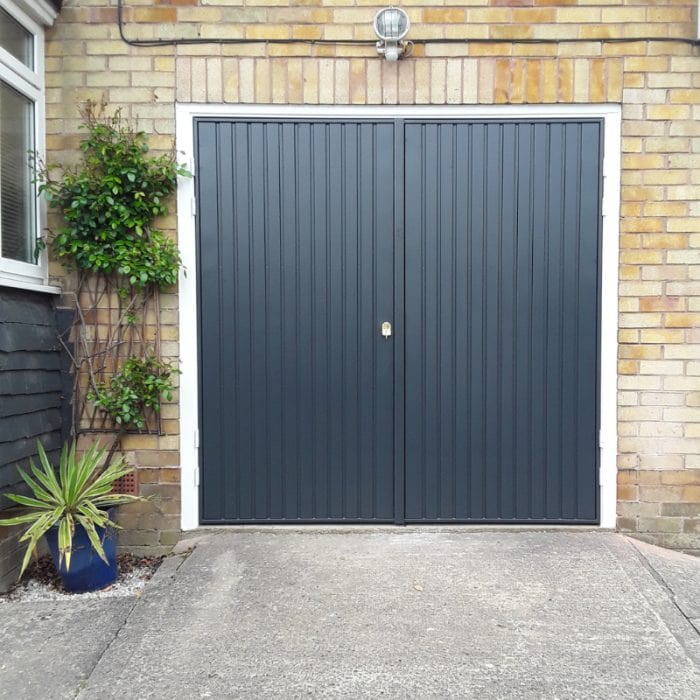 Our Range of Side Hinged Garage Doors
At Cardale, we're proud to have a broad selection of side hinged garage doors available for all clients. Whether you're looking to bolster security for your garage or simply make an aesthetic change, we have side hinged garage doors that are suitable for your needs.
Our staff will make recommendations based on your requirements and introduce you to the vast range of options we have available. You're sure to be impressed by the variety of side hinged garage doors we offer.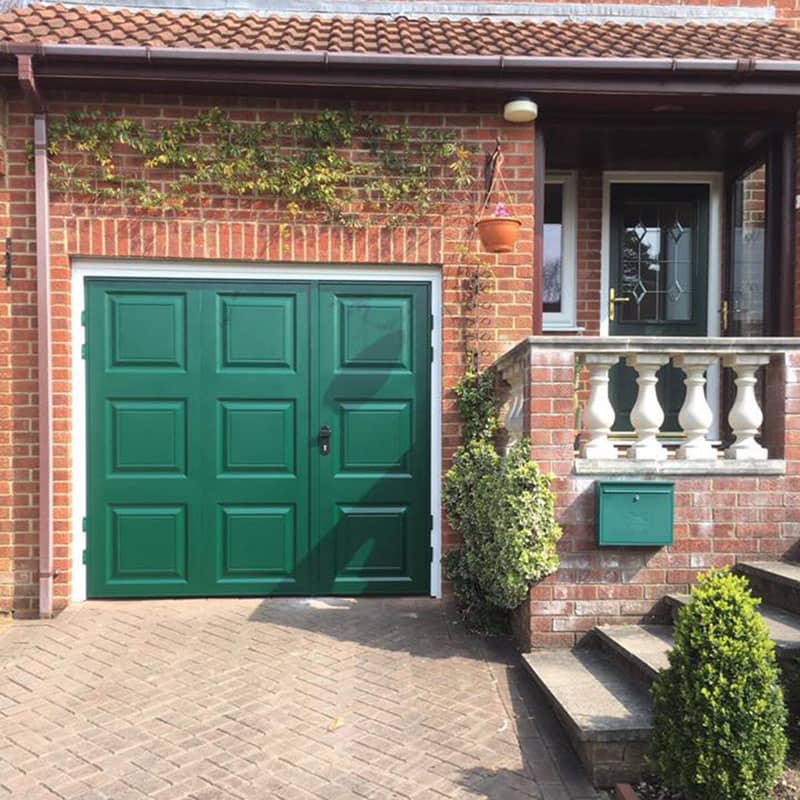 Side Hinged Doors Materials
To make sure that our side hinged garage doors are the best quality they can be, we at Cardale only use the finest materials available. We take advantage of steel, ABS, and GRP to craft our side hinged garage doors. Our staff make sure that the materials used meet our high standards before the manufacturing stage.
Below, you can find out more about the various materials we use for our side hinged doors:
One of the most popular materials we offer for side hinged doors is steel. The steel side hinged doors we have available feature a centre overlap that helps to prevent forced entry from the outside and reduces draughts.
All of our steel side hinged doors also come with a 50mm frame and twin shoot bolts that offer extra security. With our steel doors, we aim to cater to the needs of all clients, which is why we also have left-handed opening options available.
Amazingly, GRP has the same strength to weight ratio as steel, making it a composite material that is incredibly durable. The GRP options we have available include a range of different styles and finishes that emulate the appearance of wood.
One of the most appealing features of side hinged doors made from GRP is that they're extremely low maintenance. Clients who opt for our GRP side hinged doors will find them to be a high-quality and lasting investment for their property.
At Cardale, we can supply and fit your premises with the excellent DuoPort Side Hinged Doors. These magnificent-looking doors will elevate the aesthetics of your property. They are available in four styles and can be finished in various 'Super-Colour' colours and rustic wood effects. Plus, you can opt for woodgrain or noblesse (smooth), depending on the pattern.
Our DuoPort doors boast excellent insulation values, and the versatility of the active leaf placements provides better access for a garage serving as a utility, hobby, or leisure space. You can choose whether to have both leaves active or just one. And you can select which leaf is active – left or right. Quality construction and processing and (optional) additional fittings round off what is truly a stellar product.
Doors Suitable for All Clients
At Cardale, it has long been our aim to cater to the needs of as many clients as possible. We want all property owners seeking high-quality side hinged garage doors to have access to our outstanding products.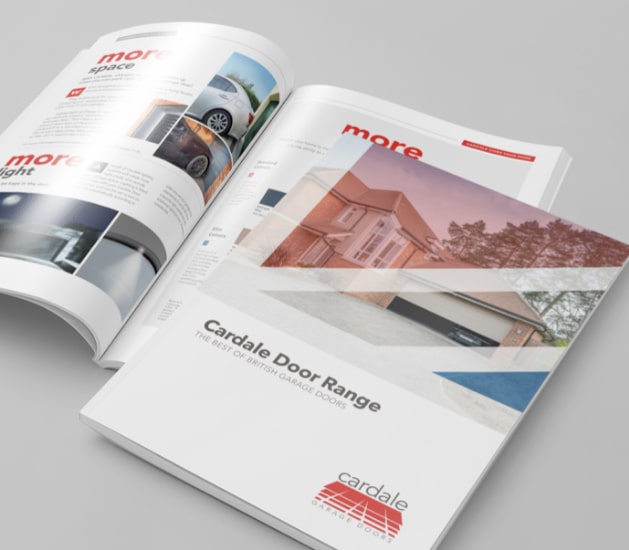 Gallery of Side Hinged Doors
Rather than just reading about our stunning side hinged garage doors, why not take a look for yourself? We've put together a dedicated online gallery that shows off the best of our side hinged garage doors.
The images on this page showcase the high level of quality our team can deliver. Browsing through these pictures is sure to convince you that we're the best supplier available for side hinged garage doors.
Contact the Side Hinged
Garage Doors Experts
Would you like to learn more about our outstanding side hinged garage doors?
Then don't hesitate to get in touch with our friendly team at Cardale today. We're always willing to discuss our services at length, so be sure to reach out if you have any specific questions about our garage doors.
Our staff will do their best to provide you with all the relevant information. We've made sure that we're available as often as possible so that clients can reach out to us at a time that is convenient.
We have a couple of contact methods available for the sake of flexibility, the first [email protected].
If you have a particularly lengthy query regarding our side hinged garage doors, this may be the best way to get in touch, as our team can look over your enquiry thoroughly.
However, if you'd rather speak to a member of staff directly about our side hinged garage doors Birmingham, you can give us a call on 0800 559 3552, where we can help immediately.
Whichever way you decide to get in touch, be sure to make the right choice by purchasing your side hinged garage doors from Cardale.